Memorial Day weekend is upon us and that means it's officially intern season in Washington, DC. Every summer, thousands of interns descend on the nation's capital and not so long ago (two years, to be exact), I was one of them. Now, if you're anything like I was as a first-time DC intern, you're probably frantically trying to pack, making lists of museums and monuments you want to see, and generally wondering what the heck you got yourself into – especially if this is your first time on your own in a major metropolitan area. But don't fret! I've compiled this handy list of tips, tricks, and things I wish I had known when I moved to the District for the first time. This list has been distilled from my own experiences, as well as those of other former interns and a few native Washingtonians, but it certainly isn't complete – add your own DC survival tips in the comments below.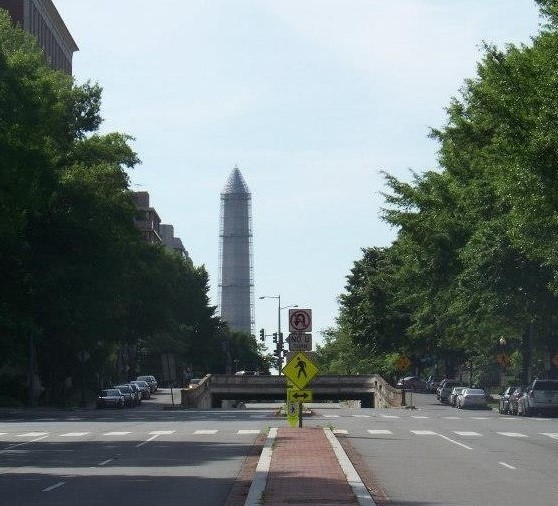 The city is built on a swamp – or at least it feels like it.
Okay, so maybe that story was originally meant to poke some fun at Congress, but DC humidity is certainly legendary. The average temperatures for June, July, and August are in the mid- to upper-80s, with humidity that hovers pretty consistently around 80-90%. Every day has the potential to be a bad hair day, so plan your wardrobe, makeup, and hair product arsenals accordingly.
In addition, be sure to break out the rain gear. Evening thunderstorms are typically as consistent in DC as the humidity and partisan bickering, so invest in a good umbrella, raincoat, waterproof footwear, or some combination thereof.
Beware the air conditioning (or lack thereof).
On the flip side, because of the muggy weather, most DC buildings have their air conditioning game on point…sometimes too much so. The temperature change can be brutal, and I know a couple people from tropical climates who got sick from being cold all the time. So, as much as it may offend your seasonal sensibilities, pack a warm sweater or two. Also, if you see an empty car on an otherwise packed Metro train, don't get your hopes up – this usually means that particular car's air conditioning isn't working and it's more of a giant mobile oven than a means of mass transit.
Metro is your best friend and worst enemy.
In my experience, Washington's Metro is one of the better big-city mass transit systems, but it is by no means infallible – far from it, in fact. The Red line is traditionally the problem-child of the system, but Blue, Orange, and Silver haven't been doing so hot recently either. Track work, disabled trains, malfunctioning utilities, and the general madness of rush hour lead to frequent delays. However, it's easy to navigate, relatively clean, and though it's expensive compared to other subway systems, it's much more cost-effective and time-efficient than attempting to drive. Invest in a SmarTrip card as soon as you can – it's reloadable and each trip will cost $1 less than if you use a paper fare card.
Follow the Unspoken Golden Rule of Metro Escalators.
I've been told that this is a quirk unique to DC mass transit. When riding a Metro escalator, if you're one of those people who prefers not to walk up or down, stand off to the right side so people can get past you on the left. It's that simple. Walk on the left, stand on the right – or suffer the wrath of a random stranger who missed their train because of you.
Don't be THAT guy. Just do it.
Metro doors don't work like elevator doors.
You know how elevators doors will re-open if they meet any sort of resistance? Metro doors don't. Don't be fooled by their relatively flimsy appearance, they will close on anything getting into the train too late – water bottle, backpack, hand, leg, small child, you name it – and will hold that thing in a vice-like grip until the conductor presses the button to open them. Your only consolation is that the train can't move until all of the doors are properly shut.
DC is a city that sleeps.
Fun fact: Metro closes at midnight on weekdays and 3 a.m. on Friday and Saturday nights. Most downtown businesses (excluding bars and restaurants) also close at a reasonable hour, around 9 or 10 p.m.. As a New Jersey (read: giant suburb of New York) native accustomed to round-the-clock transit options, I learned this the hard way after getting stranded with a friend after a movie. However, if you're not too far from your destination, the weather is decent, and you don't want to shell out the cash for a cab or Uber, Capital Bikeshare is great in a pinch and, with less traffic on the roads, makes for a fun way to get wherever you're going.
The Smithsonian isn't just one museum.
The Smithsonian Institution is actually a network of museums and galleries – 19 museums (two with IMAX theaters), the National Zoo, and 9 research facilities, to be exact. These include the National Museum of American History, the National Museum of Natural History, the National Air and Space Museum, and the National Gallery of Art. Best of all, admission to any of the Smithsonian galleries and museums is FREE (except for the Cooper-Hewitt Museum in New York).
The Smithsonian also supports other events, one of the biggest being the annual Folklife Festival, which is held out on the Mall for two non-consecutive weeks, typically at the end of June and beginning of July. Another popular program is the National Gallery of Art's Jazz in the Garden, which is a series of free concerts in their Sculpture Garden every Friday night from 5:00 to 8:30 p.m.
The National Mall is open 24/7.
This is one of my favorite not-so-secret secrets about DC. The monuments on the National Mall are iconic, not to mention spectacular, but my favorite time to see them is at night. Not only are the crowds less crazy (though there are still crowds), but the way the marble looks when it's lit up in a sea of darkness will give you chills. Just be sure to bring your bug spray – the Reflecting Pool is a breeding ground for all sorts of flying creepy-crawlies.
DC was just rated the fittest city in the country for the second year in a row by the American College of Sports Medicine, and in my experience, taking advantage of the DC sports/fitness scene is one of the best ways to meet people and see the city. Websites like Active Life DC post free and/or low-cost workouts and classes, which are great ways to try something new. Washington also has a thriving climbing scene (I'll admit, I may be a teeny bit biased to this particular pursuit) and indoor gyms like SportRock Alexandria and Earth Treks Rockville are Metro accessible. Runners will love the abundance of parks like Rock Creek and the C&O Canal, and for cyclists looking to do something different, DC Bike Party is a fun monthly night of shenanigans. The Potomac offers lots of opportunities for watersports and you can find plenty of softball and Ultimate pickup games on the National Mall any given night of the week. Find something that speaks to you, get out, and play!
Brush up on politics and news.
When I moved down to DC as an intern, I had barely been in the city five minutes before someone started a conversation with me about politics. I'm not saying you have to become an expert analyst or suddenly develop professional debate skills, but little things like knowing the difference between "liberal" and "conservative," or even just scanning the headlines of your chosen major news outlet in the morning can help you navigate (and disengage from, if you so choose) DC small talk. As an added bonus, knowing where the president, vice President, visiting dignitaries, and other high-ranking officials will be in the city and at what time can save you a LOT of headache, as the security measures taken for their motorcades and appearances often shut down major roads and tie up traffic.
If you're in the right place at the right time, you never know what you'll come across. Keep an eye on social media – there are plenty of free and intern-only events across the city during the summer, but sometimes there will be little to no warning, besides a couple of last-second Facebook posts. For instance, I stumbled across James Cameron making a speech with the DeepSea Challenge submersible on the corner of 12th Street and Pennsylvania Avenue one random afternoon. There's always something interesting going on – plug in, be flexible, and make the most of your time in DC.
Originally published at Huffington Post Comedy