It was a rough day for growth-technology investors. The so-called FANG stocks fell Monday after disappointing quarterly results from two of the top companies in the sector.
Facebook, Amazon, Netflix and Alphabet all ended in red to start the trading week, leading the tech-heavy Nasdaq Composite to its biggest 3-day loss since March.
The Nasdaq Composite closed 1.4 percent lower, Facebook finished 2.1 percent lower, while Netflix ended Monday down 5.7 percent. Amazon and Google parent Alphabet dropped 1.8 and 2 percent, respectively. Apple, which is sometimes added to the group to make it "FAANG," closed 0.5 percent lower.
FANG is an acronym for high-performing technology stocks — Facebook, Amazon, Netflix and Alphabet (formerly known as Google) — that have led the bull run of the last 9 years.
Facebook had its worst day as a public company last week, dropping 20 percent and shedding roughly $120 billion in market value Thursday following a disastrous second-quarter report. The company missed revenue and active userprojections following data leaks and fake news scandals. The stock is down 13 percent this month.
Netflix also disappointed Wall Street. The company reported second-quarter results that missed analysts' expectations for new subscribers for the first time in five quarters. The stock fell more than 5 percent following the report and is down about 13 percent for the month.
Some Wall Street strategists say the disappointments in growth names, with the addition of Apple, could shift the market more toward value stocks.
"Of the five FAANG stocks that have reported, two have flopped along with a few other high growth/high momentum names and this group is coming under pressure," Jefferies equity strategist Steven DeSanctis said in a note to clients Monday. "We think this presents us with the catalyst to shift toward value and valuations mattering."
Morgan Stanley also predicted a shift toward value and pointed to industrials as a sector with "relative upside."
"We viewed Friday's moves as a sign of market exhaustion and think shift toward value could be more sustainable," Michael Wilson, equity strategist at Morgan Stanley, said in a note to clients Monday. "With Amazon's strong quarter out of the way and a very strong 2Q GDP number, investors were finally faced with the question of 'what do I look forward to now?'"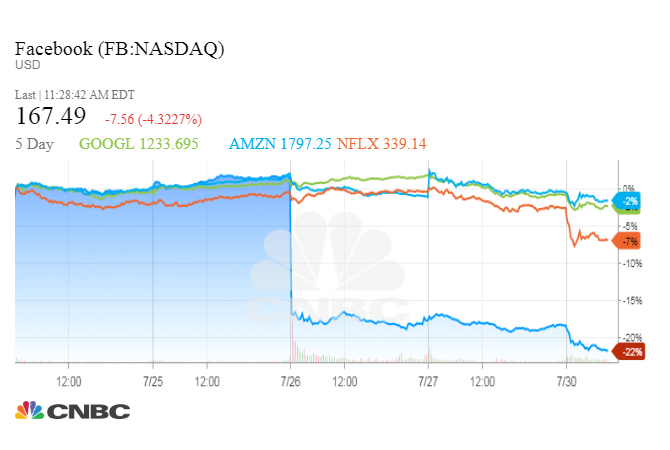 On Thursday, Amazon reported a huge beat on profits but a slight miss on revenue for its second-quarter results.
Goldman Sachs' chief strategist took the opposite view on the tech stocks, and said Facebook's disappointing results shouldn't scare investors out of the entire sector.
Even after the drops Monday, most of the FANG stocks are up so far this year. Netflix is still up more than 77 percent year-to-date followed by Amazon's 54 percent year-to-date gain. Facebook is the lone loser, down 4.6 percent this year.
Tech stocks are still the best performers in 2018, and the sector is up 14.1 percent compared with the overall S&P 500 index, which is up 5.4 percent this year.
Apple reports earnings Tuesday after the bell.
Originally published at CNBC