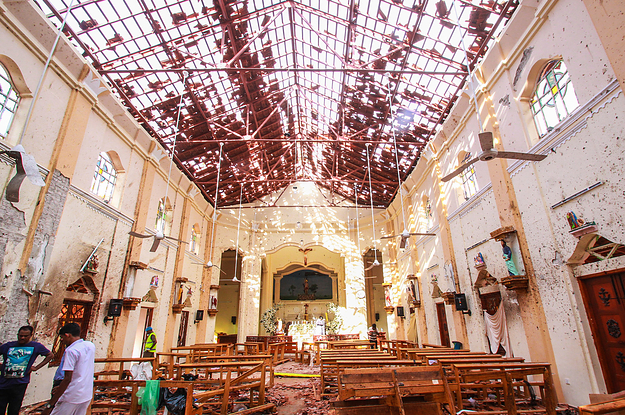 As news broke Sunday that multiple blasts in Sri Lanka had killed and injured hundreds, the country's officials announced that social media would be blocked to avoid the spread of rumors and disinformation.
Facebook and Instagram were among the platforms temporarily shut down, according to the Sri Lankan government news portal. Websites that track blocked platforms said the ban extended to WhatsApp, Snapchat, Viber, and many more.
A statement from the Sri Lankan president's office, posted to the country's official news website said that "the decision to block social media was taken as false news reports were spreading through social media."
"The statement added that security forces were conducting comprehensive investigations into the incidents of explosions and that the blockage would be effective until investigations were concluded," the website said.
Officials made 13 arrests following the bombings by Sunday evening local time, but did not release names of any suspects at that time. No group had claimed responsibility for the attack and no details about the perpetrators have been released by authorities by then.
But online, there was widespread speculation about the person or group behind the bombings.
News outlets published names of suspects that had not been verified by officials. One video that named a man in connection with the bombings, and showed a photograph, got hundreds of thousands of views across Twitter and YouTube. Websites that used years-old photos with incendiary headlines to promote those same names contributed to the spread of unverified information.
Sri Lanka's Minister of Defense asked reporters to not publicize any potential names of the suspects to avoid inflaming tensions.
Sanjana Hattotuwa, a senior researcher at the Centre for Policy Alternatives, told BuzzFeed News over email that a ban on social media could be effective in the short term, "but depends on how much they ban or block." Hattotuwa also confirmed that both Twitter and Facebook "are proactively monitoring their respective platforms."
In the past, Facebook has been accused of inaction by activists and academics when its platform was used to incite anti-Muslim violence. Officials were forced to cut off access to the website in 2018 because of the violent content it helped spread.
In a statement emailed to BuzzFeed News, a Facebook spokesperson said that teams were "working to support first responders and law enforcement as well as to identify and remove content which violates our standards."
"We are aware of the government's statement regarding the temporary blocking of social media platforms. People rely on our services to communicate with their loved ones and we are committed to maintaining our services and helping the community and the country during this tragic time," the Facebook spokesperson said.
Twitter did not respond to questions about the social media ban or whether the company is taking proactive steps in fighting online disinformation. "We have no comment and nothing to share," a spokesperson for the company told BuzzFeed News. YouTube did not respond to repeated requests for comment.
Officials have also warned against sowing divisions in following the attacks, which come nearly ten years after a violent, decades-long civil war between the Tamil Tigers, a separatist militant organization, and the Sri Lankan government. It's estimated that 70,000 people were killed during that conflict, which ended in 2009. But the violence in the country has largely subsided since then.
In a statement, Minister of Finance Mangala Samaraweera said the attacks are "a diabolical attempt to create racial and religious tensions in this country yet again, thereby pulling the country backwards." He called on Sri Lankans to unite, and thwart "this heinous attempt to drag our country back into the dark past."
Originally published at Buzzfeed